Friday, May 4th, 2012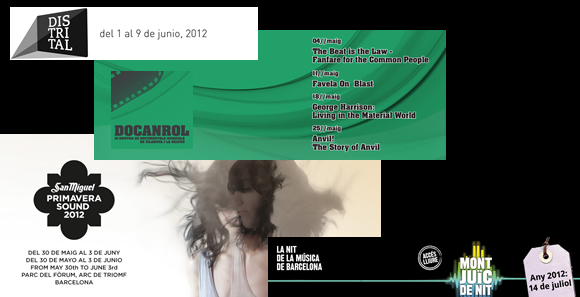 We are very excited to announce that The Beat Is The Law is being screened with Spanish subtitles in both Spain and Mexico over the next few weeks. The film will open the DOCANROL festival tonight 4th May 2012 (coincidentally on the same evening as Pulp play the SOS festival also in Spain) and is lined up with Scorcese's 'George Harrison' and 'Anvil!' documentaries.
Spain screenings will be at:
Docanrol 4th May
Primavera Sound Festival 30th May-3rd June,
Montjuic de Nit (the festival of festivals in Barcelona)  14th July.
Mexico screening at Festival Distrital 1st – 7th June
Tags: anvil!, distrital, docanrol, george harrison, martin scorcese, primavera sound festival, pulp
Posted in Events, Film News, Past | Comments Off