Sunday, December 1st, 2019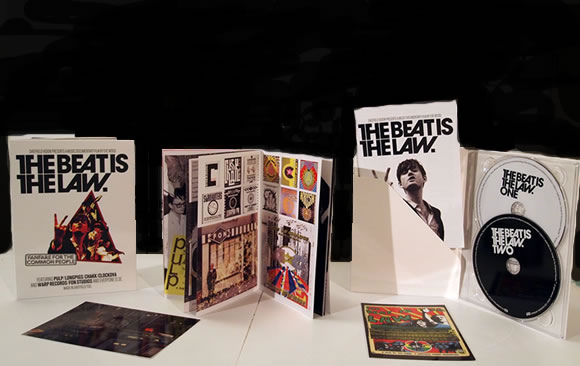 It's Back! After being unavailable for several years, The Beat Is The Law – Fanfare For The Common People is once again available to buy on DVD just in time for Xmas!
We can't believe it but it is actually 10 years since we first screened  The Beat Is The Law (80s) at the Sheffield Documentary Festival. Pulp have just celebrated 25 years since the first release of the fabulous His 'n' Hers album by releasing the album again but over 4 sides remastered at Abbey Road. Plus WARP have celebrated 30 years since they began by releasing an incredible box set of recordings.
So you can now once again go back in time and see how it all happened. Click here to visit our Sheffield Vision Webstore where you can purchase the critically acclaimed double-disc DVD including a 24 page colour booklet, all beautifully designed in The Designers Republic .
PLEASE NOTE:
Don't delay ordering from us if you want to receive our products in time for Xmas as last Xmas posting using Royal Mail International Standard (formerly known as Airmail) is:
Monday, December 9 for Africa, Asia, Caribbean, Central and South America, Far and Middle East
Tuesday, December 10 for Cyrpus and Malta
Wednesday, December 11 for Eastern Europe (except Czech Republic, Poland and Slovakia)
Thursday, December 12 for Greece, Turkey, Australia and New Zealand
Saturday, December 14 for the Czech Republic, Finland, Italy, Poland, Sweden, Canada and USA
Monday, December 16 for Austria, Denmark, Germany, Iceland, Portugal, Netherlands, Norway, Slovakia, Switzerland and Spain
Wednesday, December 18 for Belgium, France, Ireland and Luxembourg
United Kingdom last posting date for first class Royal Mail is Friday 20th December
Tags: designers republic, jarvis cocker, pulp, pulp documentary, pulp dvd, The Beat is The Law, warp
Posted in Film News | Comments Off