Friday, June 17th, 2011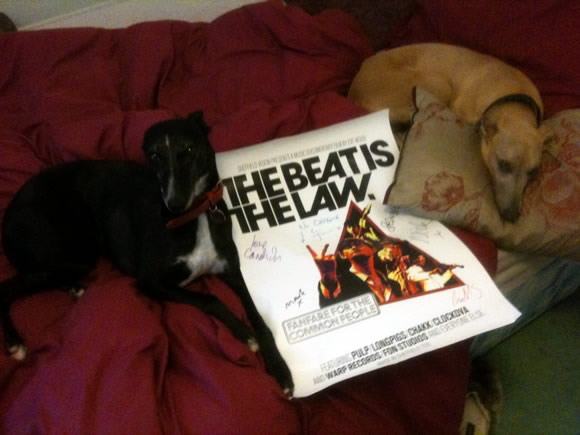 The first in a series of photos sent in by those who won The Beat Is The Law – Fanfare For the Common People posters signed by Pulp.
We asked the lucky few to photo the signed poster hung up in their pride of place.
This is what Helen M. from The Lake District, UK  had to say about her photo:
"Fantastic film, enjoyed it more than anything else I've seen in ages. Feel very lucky to have won a film poster as well (very nice it is too!). Since you asked for pictures of the posters in pride of place, I thought I'd send you this. It's not quite pride of place yet: I was preparing to hang my poster up on the wall, put it down for a second and left the room. As if they knew it was important, my two whippets Bell and Charlie rushed in to guard the poster and insisted on sleeping like that for most of the afternoon… I always knew they had good taste! Charlie always gets very happy when I play Longpigs or Pulp, so he's clearly a fan!"
Thanks Helen.
Tags: common people, designers republic, jarvis cocker, pulp, The Beat is The Law
Posted in Film News | Comments Off