Friday, November 11th, 2011

We are very excited to announce The Beat Is The Law will screen in the Melkweg, Amsterdam at the Play International Music and Film Festival  on 18th November 2011 at 12.30pm and again on the 20th at 01.00am.
More info and how to get tickets here>>
The location for the screenings has special significance not only for Sheffield music, bands and artists but also personally for the filmmakers themselves.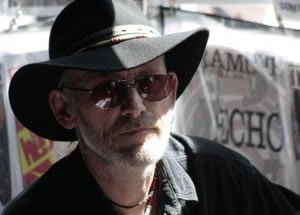 Martin F Bedford, one of the founders of Sheffield's venue The Leadmill ( which was originally based on the concept of the Melkweg) who created amazing artwork for posters promoting the Leadmill gigs throughout the 80′s, will be exhibiting his brilliant art during the Festival as well as starring in the film. More info here>>
Various Sheffield bands featured in the film played at the Melkweg in the 80′s and 90′s:
On 24th February 1985 Hula, In The Nursery, Chakk, and Artery (well Artery is from Made In Sheffield) performed there as well as Leitmotiv. The gig was called 'Sheffield Revisited'
Eve (who is Dutch) and Richard Wood (who is from Sheffield), the film's director and producer,  used to live in Amsterdam during the 90′s and remember being totally blown away by the performances The Longpigs and Pulp (Different Class tour) towards the end of 1995 at the Melkweg.
Eve will be attending the Festival and doing a Q and A after the Friday screening (in Dutch and English??)
Tags: Amsterdam, Artery, Hula, Martin F Bedford, Melkweg, Play Internationa Music and Film Festival, pulp, The Beat is The Law, The Longpigs
Posted in Events, Film News, Past | Comments Off