Pulp's decision to take to the festival circuit this summer doesn't just mean the opportunity to lose your tent/possessions/family in an exotic new country. There's also the chance to discover new cultures, find new bands and reacquaint yourself with some of the most exciting approaches to sanitation western civilisation can offer. But which of the band's 23 globe-trotting dates is best for you?  We've put together a guide to six of the highlights of Pulp's summer tour. Don't forget to use the comments to tell us which you're off to.
INSIDER CHOICE – LE BIKINI (Toulouse, France) – 25th May
So under the radar it's neither on the PulpPeople tour list, nor the host's website, France's Le Bikini is the venue for Pulp's first gig in eight years this very evening. This isn't a festival, it's a concert in a venue rebuilt from the version the band visited several times in the past, now complete with courtyard and swimming pool. Tickets are only available direct from the venue though so for now this is one for the local and/or adventurous.
COSMO CHOICE – PRIMAVERA SOUND (Barcelona, Spain) – 27th May
A return to the city Pulp played their last concert with their reunion lineup. Barcelona's Primavera Sound Festival runs from Thursday 26th to Saturday 28th May, is conveniently located 6km from the centre of Barcelona and looks to be a truly cosmopolitan setting for Pulp's return.  It's also got a tremendous line up.  Grinderman's Nick Cave once did a beautiful cover of Disco 2000, Flaming Lips offer a similarly celebratory live experience to Pulp, and between Belle & Sebastian, Interpol, Seefeel, Shellac and Dean Wareham playing Galaxie 500 there's an amazing amount of fantastic music to enjoy at Spain's answer to Glastonbury. There's also a raft of Spanish artists, of whom I'd recommend Kokoshca, Tannhauser and Triangulo De Amor Bizarro.  Tickets still available.
HOMEBODY CHOICE – ISLE OF WIGHT FESTIVAL (Isle of Wight, UK) – 11th June
Running from Friday 10th to Sunday 12th June, Pulp play the Saturday evening of this resurrected fest as support to headliners Foo Fighters. Weekend tickets are still available but this year's festival is also notable for being broadcast by Sky on their Sky Arts and Sky 3D channels – including a daily two-hour simulcast. Time to make up with your satellite-enabled brother-in-law perhaps….
IT'S BEEN EMOTIONAL CHOICE – WIRELESS FESTIVAL (Hyde Park, London) – 3rd July
Aphex Twin! The Chemical Brothers! Black Eyed Peas. London's Wireless Festival certainly has an 'eclectic' lineup but Pulp are headliners for the final day of this three day festival which means it's got the potential to be really special. Day tickets for the Sunday (which sees Grace Jones in support alongside the likes of TV On The Radio and Foals) are still available via the Wireless website.
SHEFFIELD FACEOFF CHOICE – T IN THE PARK (Baladoo, Scotland) – 10th July
More interesting headline/support choices (Beyonce supports Coldplay) but T In The Park is the only place to see Pulp and Arctic Monkeys on the same bill. That's a top drawer Sheffield line up right there. And California's Eels, as well as being one of the best US bands around, supported Pulp while they were touring This is Hardcore too. Residence packages still available for the weekend.
PERFECT MOMENT  CHOICE – OYA FESTIVAL (Oslo, Norway) – 12th August
Oya Festival enjoys one of the most beautiful settings in festivaldom – a lakeside camp amongst mistyNordic ruins – and the line up is suitably attractive.  Kanye West and Fleet Foxes headline alongside Pulp for this five-day event.  Note the presence of Edward Sharpe & The Magnetic Zeroes too – their tunes have been played and gigs attended by Jarvis recently.  The Quietus did a great feature on the festival and accompanying Spotify playlist a couple of years ago.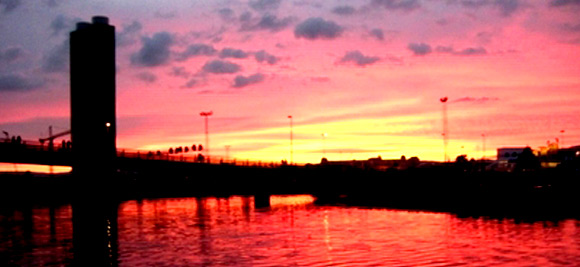 Full tour itinery as follows -
25th May – Le Bikini, Toulouse, France
27th May – Primavera Sound, Barcelona, Spain (with Animal Collective, DJ Shadow, Grinderman, Mercury Rev, Pere Ubu, Seefeel, The Album Leaf, The Bitter Springs, Flaming Lips, Walkmen
11th June – Isle of Wight Festival, Isle of Wight, UK (with Band of Horses, Iggy and the Stooges)
1st July – Open'er Festival, Poland (with Prince, The National, Coldplay)
3rd July – Wireless Festival, Hyde Park , UK (with Grace Jones, Aphex Twin, Cut Copy, The Black Eye Peas)
7th July – Exit Festival, Serbia (The A-Team must be huge over here. With Portishead, MIA, Editors, Bad Religion, Underworld)
8th July – Bazant Pohoda, Trencin, Slovakia (with Moby, PiL, Tokyo Ska Paradise Orchestra, Staff Benda Bilili, Oy Division)
10th July – T in the Park, Baladoo, Scotland (with Arctic Monkeys, Beyonce, Manic Street Preachers, Eels,
14th July – Vieilles Charrues, Carhaix, France (Snoop Doggy Dogg, Scorpions, Barrington Levy, Lou Reed, PJ Jharvey, Congotronics vs Rockers
15th July – Dour Festival, Belgium (with Anthrax, Flying Lotus, Mogwai, Lindstrom, Suede and Tokyo Ska Paradise Orchestra)
17th July – Melt, Grafenhainichen, Germany (with Edward Sharpe & The Magnetic Zeroes, Iron and Wine, Gui Boratto
23rd July – On the Bright Side, Perth, Australia (with The Hives, Modest Mouse, The Kills)
27th July – Hordern Pavillion, Sydney, Australia (Appears to be a gig rather than a festival)
29th July – Festival Hall, Melbourne, Australia (ditto)
31st July – Splendour in the Grass, Woodford, Australia (with Coldplay, Kanye West, Jane's Addiction, The Mars Volta, Devandra Banhart, Elbow, Gomez, Wild Beasts)
10th August – Sziget Festival, Obudai Island, Budapest, Hungary (with Amy Winehouse, Gogol Bordello, Interpol, Manic Street Preachers, Rise against the Machine)
12th August – Oya Festival, Oslo, Norway (with Aphex Twin, Jayhawks, Edward Sharpe & The Magnetic Zeroes, Twin Shadow)
13th August – Way Out West, Gothenberg, Sweden (with Kanye West, James Sharpe, Edward Sharpe & The Magnetic Zeroes, Explosions in the Sky, Glasser)
18th August – Festival Paredes de Coura, Portugal (with Wild Beasts, Mogwai, Twin Shadow, Metronomy)
20th August – Terra Vibe Park, Athens, Greece (Website features image of a shed with Erasure looping over the top – not to be missed)
27th August – Reading Festival, Reading, UK (with Elbow, Muse, The Strokes, Seasick Steve and Madness)
28th August – Leeds Festival, Leeds, UK(with Elbow, Muse, The Strokes, Seasick Steve and Madness)
4th September – Electric Picnic, Stradbally, County Laois, Ireland (with Arcade Fire, PJ Harvey, The Charlatans, Midlake, Public Enemy)