Tuesday, March 20th, 2012
Briefly namechecked in The Beat Is The Law by Rob Gordon, Pop Will Eat Itself made their first album, Box Frenzy, produced by Rob Gordon at FON studios in the Wicker, 1987.
25 years later Clint Mansell, one of the key members of PWEI, watched The Beat Is The Law and was kind enough to write to the director and recall life in Sheffield at the time…
Hi Eve,
really enjoyed the film – particularly as I had recorded at FON on the Wicker when I was in Pop Will Eat Itself.
We recorded our first album and a single with Rob Gordon. So we knew Dave Taylor, Ian Anderson did our artwork, Cassius,Winston & Parrott scratched on the tracks, Ruth sang on the album. She was even wearing a PWEI baseball cap in the video to 'House Arrest'.
Anyway, they're all good people who I haven't seen in many years so thanks for that.
It was an exciting time for us, making our first album, but also times were changing for FON/Sheffield because, even though it was difficult times you could sense the creativity and the drive that existed round these talented people, trying to do their thing!
We heard music that was well outside our frame of reference at that time – Detroit techno, house music…even scratching was such a new experience to us…it was 1987, hip hop was hitting the mainstream – we hadn't discovered Public Enemy yet – it was Run DMC, Beastie Boys and 12″ mixes of Madonna that we were loving. Sheffield broke us out of the indie straitjacket that had really run its course for us at that time.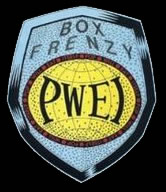 The Wicker was a wasteland then, real deserted ghost town. Just the factories, a couple of pubs and a kebab shop! We were seriously broke so we didn't venture too far from the studio anyway…on a later visit we went to Leeds for a night at Back To Basics but that was a long time later – we couldn't afford that sort of hedonistic behavior in '87 – it was a four pack of kestrel lager and a take away curry/kebab in the studio back then!
PWEI exists without me now. I live in Los Angeles and am a film composer – I've scored all of Darren Aronofsky's films – Pi/Requiem/The Fountain, The Wrestler/Black Swan amongst others, notably Moon…I loved my time in PWEI but rocknroll is really a young persons game and that's something I cannot be accused of!
Clint
www.clintmansell.com
more on PWEI's first album Box Frenzy here>>
Tags: Box Frenzy, Clint Mansell, designers republic, FON, House Arrest, Pop Will Eat Itself, PWEI, Rob Gordon
Posted in Film News | Comments Off