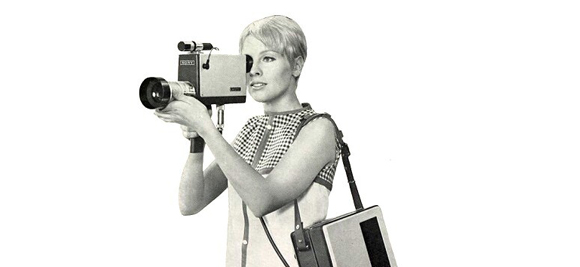 Full to bursting with boxes full of tinsel and memories, rummaging through Russell Senior's attic is a little like poking round the recesses of the Pulp guitarist and violinist's head. But for director Eve Wood this landscape of beams and boxes was also the setting for one of 'Fanfare for the Common People's most exciting discoveries – an original reel-to-teel tape recording of a hitherto thought lost Pulp performance from 1985.
Now digitally restored, edited under guidance from the band themselves and presented as a 15 minute featurette on the second disc of 'Fanfare's DVD release – complete with a previously unheard song – 'The Lost Tape' is a story within a story. We spoke to Eve, Jarvis, Russell and other key players about its discovery, restoration and reaction…
Eve explains how they found the tape itself, "We were going through quite a lot of prints that they'd done in the eighties. Russell did quite a lot of the designs and posters and leaflets and stuff so he showed me all of those, which are really nice. We went through a box and there was this tape…"
"…I think at the time they filmed it in 1985 it was already obsolete. It was something they used in the 60′s and 70′s … [Sheffield Independent Film manager, now Film Producer] Colin Pons had this camera and they wanted to use it because it would have a special look – something you don't quite see now – a super 8 kind of filmic look, even though it's video. So they wanted to experiment with that. It was one of the first portable videocameras basically so the tape is not in the camera – you've got a recorder in a backpack linked to your camera…"
Based on the tape's ½ inch EIAJ video format it seems likely the camera was a Sony AV-3400 Portapak, a revolutionary piece of kit which prompted rhapsodic prose from visual artists -
"…The Portapak would seem to have been invented specifically for use by artists. Just when pure formalism had run its course; just when it became politically embarrassing to make objects, but ludicrous to make nothing; just when it began to seem silly to ask the same old Berkleean question, 'If you build a sculpture

in the desert where no one can see it, does it exist?'; just when we understood that in order to define space it is necessary to encompass time;— just then the Portapak became available…"

Hermine, Freed (1976) "Where do we come from? Where are we? Where are we going?" in Ira Schneider & Beryl Korot Video Art: An Anthology.
Offering between 30-45 minutes of power on a fully charged battery, the Portapak was a revolutionary piece of filmmaking equipment when it was first released. But by the time the camera fell into Pulp's hands' in 1985 it was the unique silvery look of the format that was its main attraction. The 25-year-old tape, which Russell entrusted to Eve in the hope of discovering what, if anything, was on it, was no longer the youthful revolutionary of old. Tape dies. Left in a damp place it'll mould and rot, left in a dry place it'll disintegrate. Eve Wood, "If you don't store it correctly and get it to the right temperature before transferring, it will just fall to pieces. You can't just stick it into a recorder or it'll destroy itself…" The digital transfer of this suicidal format – tasked to the only remaining expert in the UK – was a delicate process. Klive Humberstone of Sheffield neo-classical/martial electronica artists In The Nursery offers an unnervingly close-to-home example of the pitfalls involved. Klive describes the transfer of a tape of a Vice Versa (later to become ABC) performance he filmed in 1980 – most likely shot on the very same camera as the Lost Tape as "…a nerve-racking experience. It was a case of having just one 'run through' then it was gone forever, virtually disintegrating in front of my eyes!"
Watching the digital version removes the pleasing rituals of tape – winding the reels and slotting the tape in the machine before the familiar relay of clunks and whirrs announce the start of the show – but Russell's footage is still a pleasingly eerie watch. Shot through the silver mist of VCR tape this is a half hour of snowblown ghosts in the headlights with surprisingly good audio. Beginning with a crackle, the setting is a stage draped with toilet paper, giving it a look somewhere between Doctor Who and an exploding DSS office. Opening with Jarvis joining in with the 60's surf music on their intro tape, what follows is Pulp's gig at Gotham City Club, Fascinations Nitespot, Chesterfield on the swealteringly hot evening of 7th July 1985. Seven complete songs are featured: Nights Of Suburbia, There Is No Emotion, The Day That Never Happened, 97 Lovers, Anorexic Beauty, Manon and Mark Of The Devil. The Day that Never Happened appears to be the only recording unearthed of this original Pulp composition and it comes complete with a frenetic climax from Jarvis reminiscent of Mark Gouldthorpe from one of the band's early influences, Artery.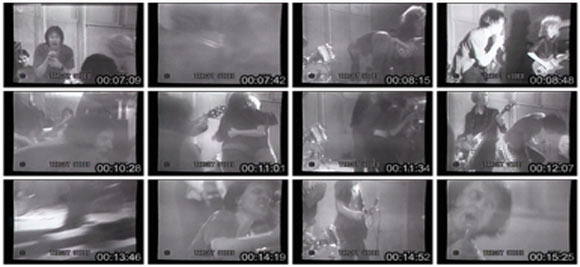 The mashed 'fuzzy analogue', echo chamber sound and frenetic snow shadow imagery is immediately reminiscent of The Cramps video Live at Napa State Mental Hospital, an observation which prompted appreciative noises from executive producer Richard Wood.  A quick check confirms the similarity as more than stylistic – Live at Napa was also filmed on Portapack and the two performances share an energetic eeriness only heightened by the recording format. Digital transfer in hand, Pulp were finally shown the footage in the Sheffield Vision office during production of Fanfare for the Common People, prompting Jarvis's appraisal "It's a good example of over-ambitious staging with technical mishaps, which happened a lot in those days…"
Discussion and feedback from the band has led to a 15 minute edit of the footage for the second disc of the DVD release of Fanfare for the Common People. Talking with Eve, it's clear that working directly with the band on bringing this performance back into the light has been a fascinating experience.  But it must also have been strange for everyone editing and working on this footage. Bands and video directors normally work with footage that's days or weeks old rather than decades and between this, its mysterious appearance in Russell's attic and the Portapack's askew filter on the world, this is probably as close to eerie as Pulp have been since one of their old synths was possessed by evil spirits while recording His 'N' Hers. How many more spectral figures are waiting to be rescued from the margins of magnetic tape in Sheffield's attics?